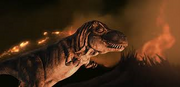 Tyrannosaurus Rex (Tyrant Lizard King) is a Tyrannosaurid dinosaur featured in
Doomsday
,
Panic in the sky
,
Strangled
and The
Next extinction
. Tyrannosaurus weighed 8,000 kg and was 13m long. It lived during the Cretaceous period. It even hunt in packs to kill Alamosaurus.
In Animal Armageddon
Edit
In Doomsday, a Tyrannosaurus was first seen stealing a kill from two Troodons. Later, a T-rex was engulfed by a flashing light before the screen went to whiteout.
Panic in the Sky
Edit
Tyrannosaurus is seen throughout the episode suffering, roaring at the camera, and eating dead animals. In one scene, a Tyrannosaurus eats her mate out of sheer desperation. The Asian relative of T-Rex, Tarbosaurus is also seen struggling in the deadly acid rain. The last T-rex dies do starvation, ending the reign of dinosaurs.
Ad blocker interference detected!
Wikia is a free-to-use site that makes money from advertising. We have a modified experience for viewers using ad blockers

Wikia is not accessible if you've made further modifications. Remove the custom ad blocker rule(s) and the page will load as expected.