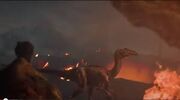 Troodon is a Troodontid featured in Doomsday, Panic in the sky, Strangled and the Next extinction
In Animal Armageddon
Edit
In Doomsday
Edit
In Doomsday, two Troodons are first seen killing a juvenile Hadrosaurs, only to have their kill stolen by a Tyrannosaurus. After the asteroid strikes, a shockwave of molten fire spreads out from the impact, but the two Troodons survive in a cave. They emerge in a burning wasteland.
In Panic in the Sky
Edit
In Panic in the Sky, Troodon is shown in the aftermath of the impact struggling to survive. They are one of the last surviving kinds of dinosaur, but there was not enough food to support the population, and so the entire species died out. It is possible that they survived a little longer by eating mammals, insects and lizards, but that's not going to sustain their population due to T-rex.
Appearances
Edit
Troodon was shown scaly in the program, but it was probably feathered in real life.
Ad blocker interference detected!
Wikia is a free-to-use site that makes money from advertising. We have a modified experience for viewers using ad blockers

Wikia is not accessible if you've made further modifications. Remove the custom ad blocker rule(s) and the page will load as expected.