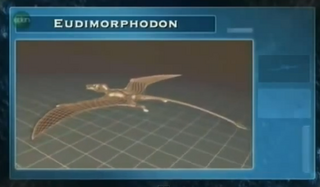 Eudimorphodon was a small pterosaur of the triassic.
In Animal Armageddon
Edit
Strangled
In this episode eudimorphodon were shown flying around basically like birds in the background. At one part they were shown eating a dead rutiodon. They survived the extinction. And also it also eat insects instead of mainly eats fish
Ad blocker interference detected!
Wikia is a free-to-use site that makes money from advertising. We have a modified experience for viewers using ad blockers

Wikia is not accessible if you've made further modifications. Remove the custom ad blocker rule(s) and the page will load as expected.