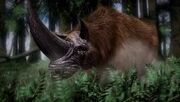 The Elasmotherium is a cousin of the woolly rhino that lives in the northern hemisphere. It is bigger then a rhino and has one big horn, making it the cause of the unicorn legend (along with the narwhal). They appear in Fire and ice.
Fire and ice
Edit
A herd of Elasmotherium is seen grazing and being hunted by Sumatran Leopards. They later went extinct after lake toba erupted. However they are not extinct is Europe and Siberia as that Elasmotherium in the show is possibly a sub species of Elasmotherium.
Elasmotherium in reality lives in Europe and Siberia. Elasmotherium would have been heated to death in a jungle.
Ad blocker interference detected!
Wikia is a free-to-use site that makes money from advertising. We have a modified experience for viewers using ad blockers

Wikia is not accessible if you've made further modifications. Remove the custom ad blocker rule(s) and the page will load as expected.